Maintaining the health of area lakes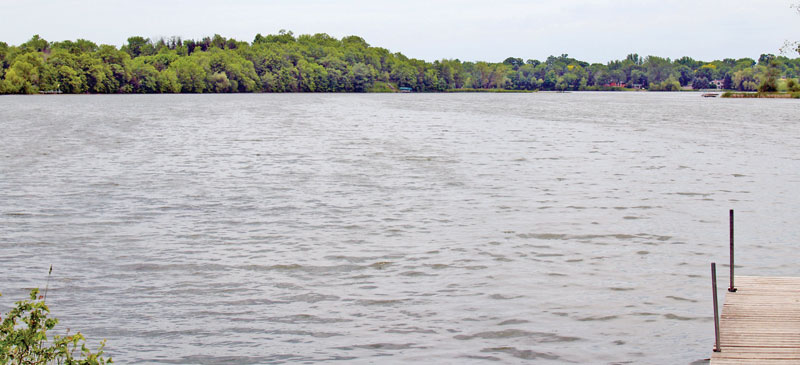 By Jennifer Von Ohlen
Staff Writer
Area lake associations work to keep the waters clean so lakes can be enjoyed for decades to come.
Lake Washington Improvement Association
Lake Washington is situated between the cities of Dassel and Darwin. The Lake Washington Improvement Association board meets at 7 p.m. the first Tuesday or Thursday of the month, from February through October (check website for the specific day). Annual meetings take place the first Saturday of May (with a pork chop dinner), and August (with a potluck). The meetings occur at the Dassel Rod and Gun Club.
The association's officers are Steve Grotbo, president; Mike Wosmek, vice president; Steve Ullom, secretary; Lyle Walker, treasurer; and Cathy Klehr, membership chair.
Membership fees are $50 a year and may be sent to PO Box 68, Dassel, MN 55325.
For more information, visit www.lakewashingtonassn.com or visit the association's Facebook page.
Brooks Lake Area Association
Brookes Lake, a 96-acre lake popular for swimming, fishing, and get-togethers, is located in the heart of Cokato. Since its establishment in 2006, the Association has been monitoring and testing lake quality and clarity, treating invasive species, restoring native vegetation, and planting rain gardens to work towards crystal-clear waters in the lake.
An annual meeting takes place each spring, with a wrap-up meeting each fall. For more information, or to get involved, write to PO Box 462, Cokato, MN 55321; email brookslakeaa@yahoo.com; or, visit the website at www.brookslake.info.
Cokato Lake Improvement Association
Cokato Lake is a 589-acre lake located north of Cokato on Wright County Road 4. The Cokato Lake Improvement Association meets quarterly, with its annual meeting scheduled for Saturday, Aug. 19 at the Cokato Lake RV Resort.
Officers are Louis King, president; Scott Maki, vice president; Heather Coffelt, secretary; Bettee Norton, treasurer. For more information, or to get involved, contact any of the association members, or e-mail cokatolakeimproveassociation@gmail.com.
Lake Stella Homeowners Association
Lake Stella is located south of Darwin. The Association meets the second Tuesday of each month from April through September. The meetings begin at 7 p.m. The Association also hosts an annual breakfast, free for all association members.
Officers are Kevin Compton, president; Ryan Severance, secretary;  Dave Franzen, treasurer; Gene Putzier, County Lake Association representative; Craig Reiner, Grant Wurdell, John Decker, Tim Sellner, and Galen Witte, directors; and DeeDee Reiner, Lake Stella ladies representative. For more information, or to get involved, contact the association at PO Box 3, Darwin, MN 55324, or contact any of the officers.
Long Lake of Dassel Improvement Association
Long Lake is located north of Dassel on Meeker County Road 4. Officers are Mark Herman, president; Rick Craswell, vice president, Chad Luebker, treasurer; and Tom Berggren, secretary. An annual association picnic takes place the Saturday of Labor Day weekend, and an annual meeting takes place in the spring. To get involved, or for more information, contact any board member.
Spring Lake Association
Spring Lake is located northeast of Dassel off of Hwy 12. A summer meeting and picnic will take place in July. A meeting will also take place the following winter. Spring Lake Association officers include Blane Driscoll, president; David Floren, vice president; Karen Driscoll, treasurer; Anna Tool, secretary.
For more information or to be added to the association email list, email springlakeassociation@hotmail.com.
Collinwood Lake Community Association
Collinwood Lake is located between Dassel and Cokato, south of Wright County Road 31/Meeker County Road 6. The Association represents 109 properties, and the Collinwood Lake area offers a wide variety of different activities throughout the different seasons, such as fishing, hiking, golfing, hunting, snowmobiling, and sightseeing.
Officers are George Kraemer – president; Steve Schalbe- vice president; Cathy Bergemann – secretary; and Dot Halvorson – treasurer. For more information, or to get involved, contact any board member, visit its website at www.collinwoodlake.com or by email at collinwoodlakemn@yahoo.com.
Big Swan Area Lake Association
Big Swan Lake is located north of Dassel off Meeker County Road 4. The Association's officers are Steve Plaisance – president; Don MacKay, vice president; Bev McGinty – secretary; and Jan Grossman – treasurer. For more information, or to get involved, please contact Steve Plaisance at (320) 221-0877, or by email at plaisances1@gmail.com.
Lake Jennie Improvement Association
Lake Jennie is located south of Dassel off Meeker County Road 18. The association is working to improve water quality and shoreline preservation, resulting in a better recreational lake for fishing, boating, and watersports. Officers are Mike Kotila – president; Randy Newman – vice president; Peg Truax – secretary; Laura Osborne – membership director, Dick Nesvold – treasurer. Meetings take place every month, except for November and December, and are open to the public. For more information, or to get involved, contact any board member, or visit its website at www.lakejennie.com.