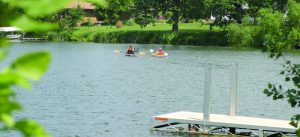 Bandstand Park, located on Atlantic Avenue and Fourth Street in Dassel, is named after a renovated bandstand in the park, and is also commonly referred to as Railroad Park. People frequently gather there for community events such as Dairy Berry Day in June and the farmers market, open each Friday typically from June to October.
Excitement is often heard from Dassel Ballpark, which is located on Second Street and Linart Avenue, on the north side of Dassel. In the summertime, it is home to the Dassel-Cokato Saints amateur baseball team. The field is also used by youth leagues. Its well-groomed field, bleachers, and scoreboard makes this a popular venue to enjoy America's favorite pastime. Many people also enjoy tossing horseshoes at the park.
The DC Saints and the DC Baseball Association have worked continuously to improve to Dassel Ball Park for many years, which led to the field being chosen as one of three that will host the 2016 State Amateur Baseball Tournament. In preparation for the tournament, even more improvements are taking place at the ball park throughout the summer.
Concrete walkways have been installed and grass has been planted outside the field along the first baseline. A set of bleachers was also erected for visiting fans. New perimeter fencing has been installed to protect fans from fly balls, and additional drainage tile was added throughout the field last fall.
Along with continuous cosmetic improvements and improvements to the playing surface, a new deck and standing patio will be constructed this summer along the third baseline for Saints fans.
When winter comes, the fun doesn't stop in Dassel. Open A hockey and skating rink are located on leased land on the south side of town near Industrial Park. There is also a warming house on site.
Breeds Park, located on the eastern central stretch of Highway 12 in Dassel, encompasses a full city block.
It features several large shade trees, and is the site of the Dassel Area Veterans Memorial. In 2009, a veterans pavilion was also added. Travelers and longtime residents frequently make use of the amenities at the park, including tennis and basketball courts, picnic shelters, playground equipment, barbecue pits, and horseshoe pits.
Sellards Park is located near the new housing development in the southwest corner of Dassel, at the corner of Pacific Avenue and Sellards Drive. It includes playground equipment, a shelter, and a basketball court.
DCRISC
The DC Regional Ice and Sports Center (DCRISC) has been a dream the community has been trying to make a reality for more than 17 years due to its mission to build the arena debt free. The dream is coming to fruition, with the shell of the arena already constructed, and work continuing on the inside as funds allow.
Last fall, the DCRISC was one of 11 recipients of a Mighty Ducks grant from the Minnesota Amateur Sports Commission. The $200,000 grant, meant construction on the ice arena could continue seamlessly from Phase 2 to Phase 3. Before receiving the grant, the DCRISC had at least $1.3 million in funds from non-state funding sources, which was enough to complete the project through Phase 2.
Phase 1 of the project was building a 135-foot-by-250-foot exterior shell of the arena at a cost of $1 million; Phase 2 was building out the interior of the arena with locker rooms, acquiring hockey boards, and installing a fire protection system at a cost of $350,000; Phase 3 of the project is the installation of a refrigeration system.
The completion of Phase 2 allows the DCRISC to obtain an occupancy license from the state of Minnesota, allowing the building to be used. However, without the installation of the refrigeration system, the cooperation of the weather is needed to provide natural ice for skating purposes.
While providing an additional sheet of ice for hockey in the winter, the building will also be used for school sports like golf, baseball, softball, and track.
Parks in Darwin
Mountain biking, cross-country skiing, and horseback riding are exciting activities often enjoyed on rustic trails in the Dassel-Darwin County Park, midway between Dassel and Darwin on Highway 12. There is also a winter sledding hill and a primitive camp site for groups, by reservation.
School House Park in Darwin is the site of Twine Ball Day, the second Saturday of August; and a farmers market on Saturday mornings from May to September. The park also provides a swing set, playground equipment, and picnic shelter.
River routes, county parks
Canoeing down all or part of the 125-mile North Fork Crow River Canoe Route, one could spend a morning, afternoon, or even a full day or two.
Access points and campsites are located every nine to 15 miles along the river in both Meeker and Wright counties. The route begins at Lake Koronis in Stearns County and ends where the Crow River joins the Mississippi River at Dayton.
Between Lake Francis and Twin Lake is Stanley Eddy Memorial County Park Reserve, which offers gorgeous rolling hills, lakes, and marshes. Hiking, ski trails, picnic areas, and pack-in campsites cover a 620-acre area located along Wright Co. Rd. 2 in French Lake Township.
Swimmers and anglers alike are drawn to Sportsmen's Park, open from 7 a.m. to 10 p.m. Memorial Day through Labor Day. A clubhouse is available for rent by contacting Dean Winter at (320) 275-2299. It is located two miles west of Dassel on Highway 12, and one mile south of the highway along the north shore of Lake Washington.
During warm-weather months, the Lake Francis Recreation Area, located four miles northeast of Kingston on Lake Francis, is a wooded retreat complete with a swimming area, boating, and fishing.
Spring Lake County Park, located one mile north of Highway 12 on Meeker Co. Rd. 4 between Spring Lake and Long Lake, just north of Dassel, is a spacious place for a large gathering. The wide open, hilly park offers a boat launch, picnic shelters, playground, ballpark, tennis/volleyball courts, and ample parking.
Finnish Memorial Park is located one-half mile west of Kingston and Highway 15 on Meeker Co. Rd. 17, along a curve on the North Fork of the Crow River. It's a tribute to the original settlers in the Kingston area, and is situated next to a turn-of-the-century cemetery.
The park offers a cool retreat on hot summer days, featuring a picnic shelter, playground, and tennis court. It's especially popular with canoers and tubers, who make Kingston a stop on trips down the scenic river.
Snowmobile enthusiasts have access to hundreds of miles of snowmobile trails in both Wright and Meeker counties. The Meeker County trails, which can be entered just northwest of the city of Dassel, connect with the Glacial Lakes, Stearns, and Luce Line trails.